FAQ 1. Is Flossing REALLY Important?
Honesty is the best policy! Here at Clatskanie Dental, we won't judge you. We're here to educate you & help you reach your oral health goals!
So...is flossing REALLY important?
Flossing cleans the surfaces in between the teeth that you can't reach with a toothbrush. The American Dental Association recommends people clean in between their teeth daily, but flossing is just one modality. When used correctly, people can achieve the same oral hygiene using small interdental brushes or oral irrigators (aka 'water flossers").
Cleaning between the teeth can reduce harmful inflammation and therefore lower your risk of PERIODONTAL DISEASE, which is said to affect at least 50% of Americans.
Still unsure? Ask your Dentist before implementing any new oral hygiene regimen.
Learn more here:
http://www.ada.org/en/science-research/science-in-the-news/the-medical-benefit-of-daily-flossing-called-into-question
---
FAQ 2. How Can I Make Dental Care More Affordable?
How a Health Savings Account (HSA) May Reduce Your Dental Costs*
WHY open a HSA?
To help save you money on dental or medical care!
WHAT is a HSA?
A Health Savings Account is a separate account you or your employer can put money into before taxes are taken out, which may save you money on your dental care.
WHO can open a HSA?
You may ask your employer if they offer HSA to employees or you may apply for your own HSA through your financial institution or bank.
Interested in opening a HSA? Contact your employer or financial institution/bank for more information!
To learn more, see article: click here
---
FAQ 3. Painless Dental Injections: Fact or Myth?
Can getting a dental injection really be a 'painless' experience?
At Clatskanie Dental Clinic, we think it can! Let's explore why we believe this and why you should care.
What do most people dread about going to the dentist: the injection! However, there are actually quite a few techniques your dentist can implement to make the injection 'painless.' Here at Clatskanie Dental, Dr. Ross uses 3 distinct methods to ensure you have the most comfortable injection possible:
We Warm It Up: We warm the dental anesthetic so that it is near body temperature. Your body can interpret cold substances as pain, so this helps the body absorb the anesthetic more comfortably.
We Go Slow: We administer the anesthetic very slowly, which gives the body more time to adjust and therefore reduces the chance of it feeling painful.
Remember To Breath: Most people forget to breathe during dental injections because they're afraid. We gently remind you to breathe during the injection, which calms our patients. Also, the body interprets pain less during exhalation so you don't feel it as much.
Topical Agent: Our topical agent is very effective at "pre-numbing" the area, making the injection even more painless!
We strive to make our patients feel as comfortable as possible and we know dental fear is real. If you're suffering from dental pain and are avoiding going to the dentist because you're afraid, you're not alone!
We want to help you in any way we can. Let us help you by calling us today to schedule a complimentary DENTIST MEET AND GREET so you can get to know us!
FAQ 5. Can a Dental cleaning really lower my risk of heart disease?
For decades, medical researchers have hypothesized the link between oral health and whole-body systemic health. Is this link still considered ambiguous in the medical community or is there hard evidence to prove that poor oral health leads to systemic deterioration? Recent studies published in the Journal of Clinical Periodontology (2013), Journal of Oral Science (2016) and Journal of Cardiology (2010) suggest the answer is clear in regards to the link between oral health and cardiovascular disease (CVD).
Oral Disease
Have you or a family member ever been told by your dentist that you need a "deep cleaning?" According to the CDC (2010), 1 in 2 Americans (47.2%) have moderate to severe periodontitis. Once you hit age 65 your odds of developing periodontitis skyrocket to 70%. Periodontitis is caused by harmful bacteria such as Porphyromonas gingivalis that, through multiple complex processes, illicit production of host immune and inflammatory chemicals that lead to the deterioration of the endothelial cells of the gums and subsequent bone supporting the teeth, similar to the way termites eat and destroy wood, potentially leading to serious acute infections and eventual tooth loss. Although periodontitis is an incurable condition, treatment modalities have shown to be effective long-term in slowing the progression and stabilizing the condition. The traditional treatment for periodontitis is non-surgical periodontal therapy, aka a "deep cleaning", performed at your dentist's office. Periodontal therapy, depending on the severity and presence of co-morbidities such as diabetes, may include adjunctive treatments such as local antibiotics that help treat the diseased tissue directly or even laser therapy.
Cardiovascular Disease
Heart disease is the number one cause of death in Americans, killing over 600,000 people every single year (CDC 2017). Atherosclerosis, an immune and inflammatory disease that presents as dysfunctional thickening of blood vessels, presents in patients with cardiovascular disease (CVD). The process by which atherosclerosis, or blood vessel thickening, takes place is multifaceted. Basically, as plaques build up in the arteries, endothelial cell breakdown leads to foam cell formation that narrows the blood vessel leading to blood flow blockage. These atherosclerotic plaques may burst open, potentially causing a blood clot that can block the flow of blood causing a thrombotic stroke. The destructive inflammatory processes involved in CVD lead to increased cardiovascular risk markers such as destructive inflammatory blood markers (CRP, fibrinogen, interleukin-6), increased systolic and diastolic blood pressure, increased left ventricular mass (an enlarged heart), and arterial stiffness (thickened blood vessels). Biomarker interleukin-6 is especially correlated with cerebral ischemia (stroke).
Oral-systemic Link
So, what is the connection between periodontitis and the number one killer, heart disease? Both diseases exhibit a mechanism of endothelial (blood vessel wall) breakdown which leads to increased inflammatory biomarkers CRP, IL-6, haptoglobin and leukocytes, which present as bone and soft tissue destruction around teeth (periodontitis) and blood vessel thickening and subsequent heart blockage or stroke (atherosclerotic cardiovascular disease). The microbiological processes and components involved in both processes are analogous and the bacteria P gingivalis is present in most (64%) atherosclerotic plaques seen in patients with cardiovascular disease. Because research to find a causal relationship between oral bacteria and heart disease is extremely difficult and complex, as technologies improve medical researchers are finding more and more correlative and causative relationships between certain biomarkers. In a 6-month randomized clinical trial, non-surgical periodontal therapy was shown effective in reducing levels of systemic inflammatory markers such as ESR and triglycerides (significant reduction), as well as reduction in CRP and total cholesterol (moderate reduction). Periodontal therapy helps to stabilize these biomarkers up to 6-months post-operatively in patients with periodontitis.
In a 2013 study published by the Journal of Clinical Periodontology, non-surgical periodontal therapy (deep cleaning) was shown to significantly reduce all cardiovascular risk markers evaluated, including systemic inflammation plasma markers (CRP, fibrinogen and interleukin-6), systolic and diastolic blood pressure, left ventricular mass (heart enlargement) and arterial stiffness, which lead to a lower cardiovascular risk. Scaling and root planing, aka "deep cleaning", was shown to produce an even greater systemic reduction of inflammatory markers seen in patients who receive adjunctive therapies such as local administration of antibiotics such as minocycline.
Rainier Dentist
---
Online Dental Education Library
Our goal here at Clatskanie Dental Clinic is to improve the overall health of our patients by focusing on preventing, diagnosing and treating conditions associated with your teeth and gums. Feel free to use our dental library to learn more about dental problems and treatments available. If you have questions or need to schedule an appointment, contact us. Call us today at (503) 728-2137
Have questions for Dr. Ross? Call her at (503) 728-2137
Millions of people regularly take anticoagulant or antiplatelet medications (sometimes called "blood thinners") to help prevent heart attack and stroke, and to manage a variety of medical conditions including cardiac arrhythmia and stent placement. While these drugs have proven, life-saving benefits, they can also cause side effects such as increased bleeding. So it may be a cause for concern if you're taking one of them and you need to have a dental procedure.
Anticoagulants are among the more widely used pharmaceuticals today, particularly for heart patients. Some common prescription anticoagulants include heparin, warfarin (Coumadin and generics), clopidogrel (Plavix) and dabigatran etexilate (Pradaxa). Regular aspirin and NSAIDS (like Advil) also have anticoagulant properties. The purpose of anticoagulant medications is to keep the blood from clotting (clumping together) as readily as it normally does; this reduces the chance of a clot forming inside a blood vessel, which could lead to a stroke or heart attack.
If you are taking one or more of these medications, it will take longer for any type of bleeding to stop. For some dental or surgical procedures, that's a factor that must be considered. The most important thing you should do is inform your dentist right away if you are taking any kind of anticoagulant or antiplatelet medication — especially if you have just started taking it. The name and dosage of your medication will be noted in your records, and your cardiologist (or other specialist) will be consulted if necessary, to determine what's best for you.
Having Dental Work with Blood Thinners
While each patient is different, there are some generally accepted guidelines for having dental work while taking anticoagulant medications. If the drug is being taken on a temporary basis (after knee replacement, for example) then the safest choice might be to put off non-essential dental procedures. However, in many cases it's entirely possible to have needed work done while taking anticoagulants. In each situation, the risk of increased bleeding must be balanced against the chance that going off the medication could cause more serious problems.
A number of studies have shown that for many common dental procedures — cleanings, fillings and restorations, for example — it's safer to continue taking anticoagulant medications than to stop, even temporarily. That's because it is generally possible to control bleeding with local measures (such as biting down on gauze), using hemostatic devices and minimally invasive surgical techniques. Scheduling dental work for early in the day and allowing plenty of time for rest afterwards also provides an opportunity to control any bleeding that does occur.
More Complex Procedures
In some cases, more extensive dental procedures such as tooth extraction or implant placement may be recommended for people taking anticoagulants. As always, the potential risks and benefits of stopping the anticoagulant medication must be carefully weighed. To help in the decision-making process, one or more diagnostic blood tests, such as prothrombin time (PT) or International Normalized Ratio (INR), may be ordered. Then a judgment can be made, based on the test results and on clinical experience.
While it's extremely rare for common dental procedures to cause potentially life-threatening complications, it makes sense to take as few chances as possible. That's why you should tell us about any medications you may be taking, including herbs and vitamins. While taking anticoagulants doesn't prevent you from having dental work, it's important to share information about your medications so you can get the best results from your treatment.
Related Articles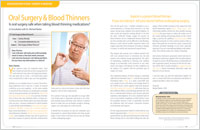 Oral Surgery & Blood Thinners If you are taking blood thinners — including aspirin — it's important to let your dentist know. These medications (also called anticoagulants) prevent the blood from clotting normally and therefore can make bleeding during dental procedures more difficult to control. However, precautions can usually be taken so that needed procedures can still go forward... Read Article